Potential to Grow
When Short Circuit Repair first came to Bootstrap Digital Group, they were in need of a website overhaul. Their current site was outdated and not mobile-friendly, which was hindering their online presence and search engine optimization (SEO). Short Circuit had an opportunity to grow their business by improving their website and online presence.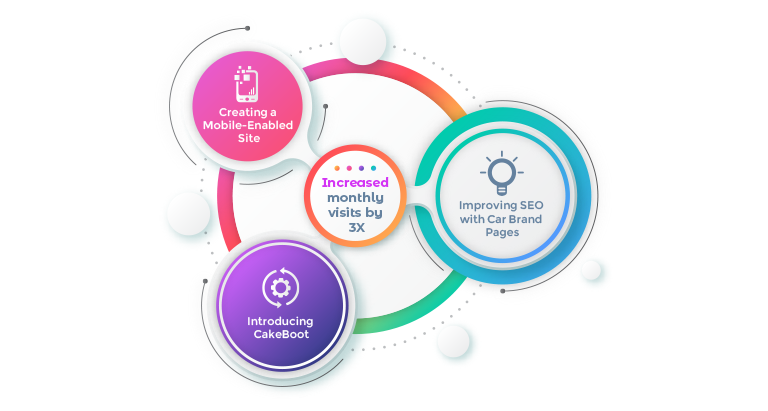 Creating a Mobile-Enabled Site
Bootstrap Digital Group immediately got to work on creating a mobile-enabled site for Short Circuit Repair. Not only did this improve the user experience, but it also unlocked better SEO.  This was critical since we were able to determine 50% of their traffic is coming from mobile devices.
Improving SEO with Car Brand Pages
Next, we focused on improving their SEO by creating new pages based on car and audio brands. This not only increased traffic to the website, but it also made it easier for users to find the information they were looking for.
Introducing CakeBoot
In addition to the website design and development, we also created a replacement customer and order management system for Short Circuit Repair. We call it CakeBoot and it was designed to streamline the customer experience and improve the efficiency of their order process.  It is also mobile friendly and secure.
The Results
The results speak for themselves. From January 2020 to December 2022, monthly traffic to shortcircuitrepair.com roughly tripled. Their website went from a low of 228 visits in May 2020 to a high of 1,527 visits in October 2022. Their garage is now full with even more happy customers.

Short Circuit Repair's success is a testament to the impact that a well-designed website and a streamlined digital strategy can have on a business. We're proud to have played a role in the growth of their company, and we look forward to helping more businesses succeed in the digital age. If you're looking to improve your online presence and boost your business, visit us at bootstrapdigitalgroup.com.  Or check out our custom order management system CakeBoot at cakeboot.com.